Primary Eye Care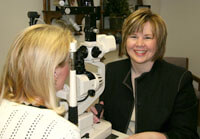 We provide nearly all aspects of vision care: eye examinations, ocular health evaluations, contact lens fittings, eyeglasses and treatment of eye infections and diseases. Our examinations are thorough and complete. We help provide you with a comfortable and efficient vision so you can work with ease and enjoy your leisure activities. We test for cataracts, glaucoma, macular degeneration and numerous other eye health problems at every exam. Most eye problems can be treated in our office. We use treatment methods as simple and inexpensive as artificial tears to more extensive treatment with prescription medication (both pills and drops), foreign body removal and other minor procedures.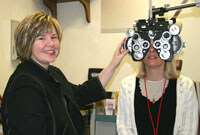 We fit a large variety of contact lenses from routine to custom. We fit lenses for nearsightedness, farsightedness, astigmatism as well as bifocal contact lenses. We fit both soft and gas permeable materials. Unlike many practices, we spend the necessary time needed to assure a successful fit. We fit many patients that have been told by previous doctors that they could not wear contact lenses.
The backbone of most optometric practices is examinations and fitting of glasses. We consider this testing so important that we do not delegate these procedures. The doctors do all of the testing themselves. We make use of a large variety of lens options that will provide you with a clear and comfortable vision: standard plastic, high index, polycarbonate (for safety), anti-glare coatings, tints, and other options. We have a large frame selection, including designer frames as well as safety and sports glasses.
InfantSee Screening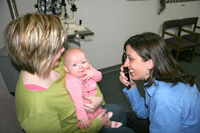 The InfantSee program is a partnership with the American Optometric Association, Johnson & Johnson, and local doctors of optometry. Your infant is eligible for a one time, no cost screening within the first year of life. Please call for an appointment.
We prefer to see your infant around 9 months of age, but can see them sooner with any specific eye concerns.
Nordic Naturals

Nordic Naturals' mission is to deliver pure and great-tasting omega fish oils that promote optimal health and wellness. Through science, education, and community outreach, they initiate standards of excellence and integrity that apply not only to their product line but to all of their business practices worldwide. As an industry leader and innovator, Nordic Naturals strives to lead individuals to a better quality of life while maintaining a deep respect for the environment.