Dr. Denise M. Hanson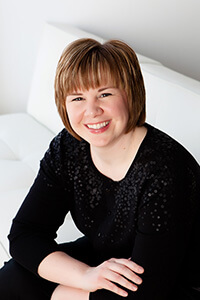 I grew up on a farm near Canby, a small town in southwestern Minnesota. Following high school, I attended Concordia College in Moorhead, MN, graduating with a BA degree in December 1994. I received my optometric training at the Indiana University School of Optometry. My last year of training consisted of four different rotations of three months each; two of these rotations were spent at VA hospitals (in West Virginia and Illinois), which I found very rewarding. The other two rotations were in Indiana, one in Indianapolis, and the other at our school in Bloomington. Throughout my rotations I gained invaluable experience in primary care optometry, pediatric optometry, contact lenses, and ocular disease. I graduated with honors in May of 1999.
While I was studying at Concordia I met my husband, Darrin. As a Fergus Falls native he introduced me to the area. Darrin & I were married in 1996 and spent our first years together in Indiana while I was in optometry school. We were happy to return to Fergus Falls following my graduation. We moved here because we hoped to make this area our permanent home. I had the opportunity to work part-time for Dr. Smith from August to December 1999; I then accepted a full-time position with MeritCare Clinic in Wahpeton, ND. We were thrilled to move back to Fergus Falls in 2001 when I accepted Dr. Smith's invitation to join his practice. It has been my privilege to practice at InVision Eye Care with Dr. Smith and now with Dr. Tara and Randy Kempfer. I particularly enjoy the family atmosphere of our office and the long-term relationships we build with our patients.
Darrin and I have been blessed with two wonderful children. Our son Rylan was born in 2001. Our daughter Kendal was born in 2006. Their activities and boundless energy keep us busy, but in spare moments we enjoy reading, music, movies and time with friends.
Dr. Hanson is a member of the following professional groups:
American Optometric Association
Optometric Association
Licensed to practice optometry in Minnesota and North Dakota.